Get ChatGPT responses on the right hand side of Google search results
ChatGPT responses alongside your Google search results

Summarize Google search results

Enhance ChatGPT results with Google search for up-to-date results

OpenAI API, ChatGPT-3.5, and ChatGPT-4 support

Toggle on/off as needed

Copy to clipboard
Integrated into Google Search No extra software!

ChatGPT for Google Search by cloudHQ provides you with more comprehensive information when performing a ChatGPT search query, or a Google search. This provides you with the most updated, and well-rounded return of information possible!
Comprehensive Information
Some of you are receiving information solely from the very trustworthy and time tested Google search engine, and some of you are opting to use ChatGPT for a more conversationalist style of information return.
If information is power, why not use both?
Get a clearer understanding of whatever you want to know more about with ChatGPT for Google by cloudHQ and combine both Google search results with ChatGPT responses.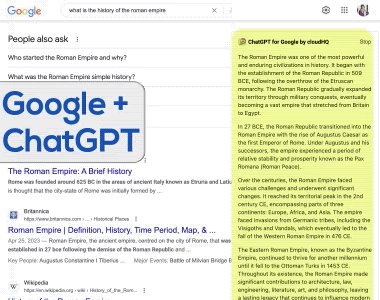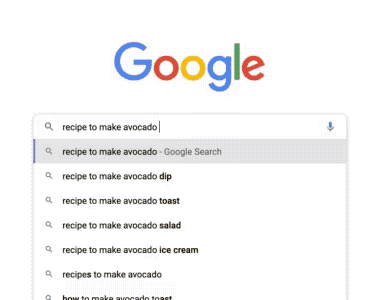 Fully Integrated With Google Search
ChatGPT for Google by cloudHQ is fully integrated with your Google search engine. Simply search for anything you want to in Google, like you would normally, and you'll notice how you'll also receive ChatGPT responses to your Google search query populate to the right of the screen. This way, you can easily view both Google and ChatGPT results simultaneously.
Google Search Results Summary
Having a Google search results summary is helpful when you simply want an overview of all of the information that Google offers you. It's a great resource because the summary is an easier way to view all your Google search results. This summary appears on the right hand side of your screen, under your ChatGPT responses.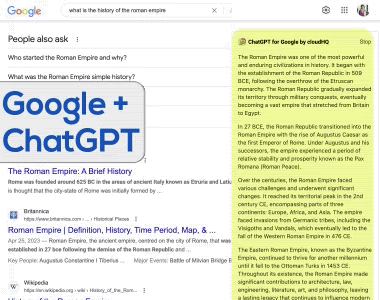 Fully Integrated With OpenAI's ChatGPT
We can all agree that ChatGPT has taken the world of search by storm, and has successfully redefined how search works. With ChatGPT for Google, you'll be able to access real-time information directly in ChatGPT, despite its training data's limitation of no information beyond September 2021. This is an impressive workaround that helps ChatGPT provide you with data that you would never normally have access to. Whether you realize it yet or not, this feature is quite groundbreaking.
ChatGPT 3.5 or 4
ChatGPT 3.5 is great for speed, and many people prefer using ChatGPT 3.5 for that exact reason. On the other hand, ChatGPT 4 is great for quality, is still quite efficient, but has a limited amount of queries. Depending on your needs, you get to toggle between the ChatGPT version you prefer.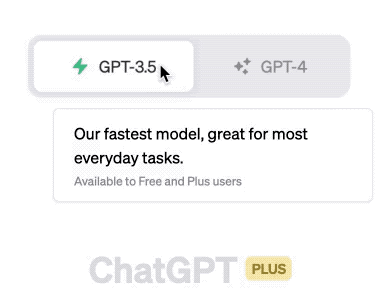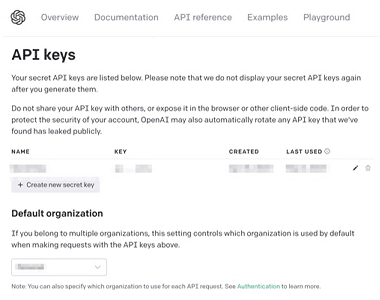 OpenAI's ChatGPT API Support
Many companies have implemented OpenAI's ChatGPT API in order to take advantage of its natural language processing AI. We fully support your API key , which means that you can continue to use ChatGPT for:
Voice Assistants, and Speech-to-Text Application
Integration in Apps and Platforms like Slack and Salesforce
Customer Support and Chatbots
Content Generation
Language Translation and Localization
Near Universal 5-Star Ratings
The boasts nearly unanimous 5-Star reviews, as evidenced by the feedback of users who have utilized it in both Chrome and Edge browsers.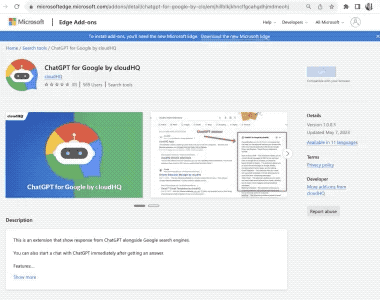 Installs in Seconds
ChatGPT for Google extension by cloudHQ can be installed from either the Chrome Web Store or the Microsoft Edge Store. Post-installation, the app will flawlessly blend with your Chrome browser interface or Microsoft Edge browser interface
---
Who Uses ChatGPT for Google by cloudHQ?
Small Business Owners
Small business owners use ChatGPT for Google by cloudHQ to create content quickly that can help them explain what they're offering, keep their website filled with fresh, new content, and also helps them with any coding or other issues that they need help with to get the job done.


Educators
Teachers and academic institutions can benefit from ChatGPT for Google to help with researching any subject so that they can offer more informed class material for their students.
Sales Professionals & Marketing Agencies
Sales people and marketers are always in need of saying exactly the right thing at exactly the right time. What better way to understand the most necessary information that you can offer to your customers so that they can make more logical decisions, and find value in connecting with you (or your brand).

Anyone Needing Data
Everyone uses Google for searching. Now, with ChatGPT, you can add more detail to those Google search results. ChatGPT, which only has data up to September 2021, can now also use Google search results to subsidize more information after 9/2021. This way, you get the best of both search result worlds, and stay extremely well-informed regarding your search subject.